NMT Ultrasound films are designed to be utilized in medical diagnostic applications requiring the use of ultrasound systems.
1. HIGH QUALITY
When comparing your current film to NMT Ultra you will find the physical attributes to be the same as other leading manufacturers.

2. COMPETITIVELY PRICED
We believe NMT Ultra to be the best value and cost per print and quality.
3. TWO DIFFERENT FORMATS
NMT Ultra comes in both high gloss and high density formats.

4. COMPATIBILITY
NMT Ultra 110HD and Ultra 110HG are compatible with both Sony and Mitsubishi medical grade printers.
5. EXCELLENT VALUE
We spent several years working to perfect the image quality of our film and believe we have the best quality, best value product available on the market today.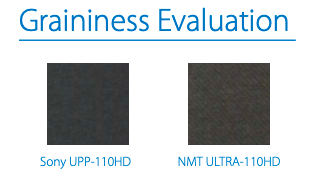 Learn more about our ultrasound film imaging media here.