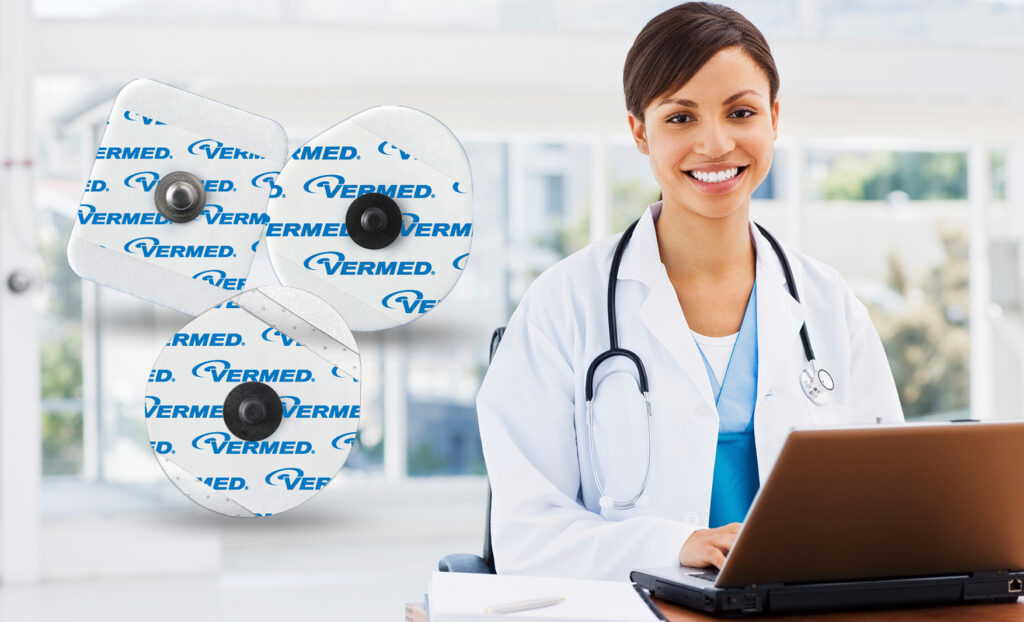 ZBrand is the newest member of the Nissha Medical Technologies' Vermed line of ECG electrodes. These electrodes are designed to be cost effective and deliver outstanding performance for all general purpose monitoring needs. There are several varieties to choose from and to help simplify the selection process, below are some basic questions to ask yourself.
What material options are available?
The Vermed ZBrand line is constructed with a range of substrates geared toward different use cases.
Foam – one of the most universally known constructions, foam-based electrodes provide great durability as well as solid adherence to the patient's skin
Cloth – our cloth substrate ZBrand are perfect for longer-term use. The breathable fabric is more comfortable for patients during extended periods of time.
Tape – the tape-based ZBrand are the most flexible and provide ideal contouring and adaptation to the patient's skin further increasing the overall trace quality.
What Gel type is needed?
Solid Gel – Most of the ZBrand line is available in solid gel format. Solid gels are great for longer duration use and for easy clean up upon removal. The trade off is that they require a little time to warm for maximum adhesion and to produce a strong trace.
Wet Gel – The wet gel ZBrand electrodes are the ideal option for ultra-fast traces when you need to get information quickly. However, unlike solid gel, they do require some additional clean-up as the gel will stay on the patient's skin after electrode removal.
Will imaging be required?
If the possibility of patient imaging is not present, then any of the ZBrand electrodes will serve the purpose of providing fast and accurate traces. But if there is a possibly that a patient will need to be scanned, the RT versions are the way to go. They utilize a radiotranslucent snap and sensor which will not distort imaging data.
The matrix below will help to find the proper mix of features you need in your ZBrand electrode:
| | | | | | | | | | | | |
| --- | --- | --- | --- | --- | --- | --- | --- | --- | --- | --- | --- |
| Item No. | Item Description | Substrate | Gel | MR Conditional (RT) | Size (mm) | Size (in) | Shape | Duration | Per Strip | Per Pouch | Per Case |
| 6502681V | Z05-5 | Foam | Wet | No | 40×36 | 1.57×1.42 | Teardrop | 72 hours | 5 | 5 | 1000 |
| 6502682V | Z05-50 | Foam | Wet | No | 40×36 | 1.57×1.42 | Teardrop | 72 hours | 5 | 50 | 1000 |
| 6502683V | Z05MC-3 | Cloth | Solid | No | 40×36 | 1.57×1.42 | Teardrop | 72 hours | 3 | 3 | 1200 |
| 6502684V | Z05MC-5 | Cloth | Solid | No | 40×36 | 1.57×1.42 | Teardrop | 72 hours | 5 | 5 | 1000 |
| 6502685V | Z05MC-50 | Cloth | Solid | No | 40×36 | 1.57×1.42 | Teardrop | 72 hours | 5 | 50 | 1000 |
| 6502686V | Z05MCRT-50 | Cloth | Solid | Yes | 50×48 | 1.97×1.89 | Teardrop | 72 hours | 5 | 50 | 1000 |
| 6502687V | Z05MT-3 | Tape | Solid | No | 40×36 | 1.57×1.42 | Teardrop | 72 hours | 3 | 3 | 1200 |
| 6502688V | Z05MT-5 | Tape | Solid | No | 40×36 | 1.57×1.42 | Teardrop | 72 hours | 5 | 5 | 1000 |
| 6502689V | Z05MT-50 | Tape | Solid | No | 40×36 | 1.57×1.42 | Teardrop | 72 hours | 5 | 50 | 1000 |
| 6502690V | Z05MTRT-5 | Tape | Solid | Yes | 40×36 | 1.57×1.42 | Teardrop | 72 hours | 5 | 5 | 1000 |
| 6502691V | Z05MTRT-50 | Tape | Solid | Yes | 40×36 | 1.57×1.42 | Teardrop | 72 hours | 5 | 50 | 1000 |
| 6502692V | Z05SG-3 | Foam | Solid | No | 40×36 | 1.57×1.42 | Teardrop | 72 hours | 3 | 3 | 1200 |
| 6502693V | Z05SG-30 | Foam | Solid | No | 40×36 | 1.57×1.42 | Teardrop | 72 hours | 3 | 30 | 1200 |
| 6502694V | Z05SG-5 | Foam | Solid | No | 40×36 | 1.57×1.42 | Teardrop | 72 hours | 5 | 5 | 1000 |
| 6502695V | Z05SG-50 | Foam | Solid | No | 40×36 | 1.57×1.42 | Teardrop | 72 hours | 5 | 50 | 1000 |
| 6502696V | Z05SGRT-30 | Foam | Solid | Yes | 40×36 | 1.57×1.42 | Teardrop | 72 hours | 3 | 30 | 1200 |
| 6502697V | Z05SGRT-50 | Foam | Solid | Yes | 40×36 | 1.57×1.42 | Teardrop | 72 hours | 5 | 50 | 1000 |
| 6502721V | Z35-3 | Foam | Solid | No | 40×35 | 1.57×1.38 | Rectangle | 72 hours | 3 | 3 | 1200 |
| 6502722V | Z35-5 | Foam | Solid | No | 40×35 | 1.57×1.38 | Rectangle | 72 hours | 5 | 5 | 1000 |
| 6502723V | Z35-50 | Foam | Solid | No | 40×35 | 1.57×1.38 | Rectangle | 72 hours | 5 | 50 | 1000 |
| 6502724V | Z35RT-3 | Foam | Solid | Yes | 40×35 | 1.57×1.38 | Rectangle | 72 hours | 3 | 3 | 1200 |
| 6502725V | Z35RT-5 | Foam | Solid | Yes | 40×35 | 1.57×1.38 | Rectangle | 72 hours | 5 | 5 | 1000 |
| 6502726V | Z35RT-50 | Foam | Solid | Yes | 40×35 | 1.57×1.38 | Rectangle | 72 hours | 5 | 50 | 1000 |
Learn more about ZBrand electrodes here: https://hs.nisshamedical.com/en/ecg-electrodes/zbrand-electrodes/